Introducing Jon Bennett of Moonrakers

Jon is a member of the Oxford-based band, Moonrakers. They have four commercially produced albums and regularly play in the south of England. If you're interested in traditional & contemporary songs and tunes on harp, fiddle, bouzouki, guitar, whistles, female & male vocals, go to www.moonrakers.net
---
---
STOP PRESS
!!
* Lots of new UK workshops for 2018!! Go to the
Events
page for the latest.
* New
6-part high definition video course
available !! The "menu" (listed
here
) is suitable for intermediate/improver standards, but also for the ambitious beginner. It includes strumming and fingerstyle techniques, how to apply chord theory and how to make special arrangements of songs. What is on offer is
years
of practice and inspiration to make you an above-average competent player, all explained in very simple terms.
It's the equivalent of at least 15 lessons. And all for just £120.
Contact me (
moonrakerscelticmusic@gmail.com
) and I'll let you know how to obtain the course in whatever format you prefer.
* The new
RGT Ukulele Course Books
are out - and they are really good! From absolute beginner to Grade 5, they include a CD and easy to follow instructions. They can be used for graded exams or just for your own enjoyment. Go to
http://www.rgt.org
Also I'm interviewed about this as well as life, the universe and everything at
http://www.rgt.org/blog/interview-rgt-uke-teacher-jon-bennett
---
Everything you need to know about the ukulele....and more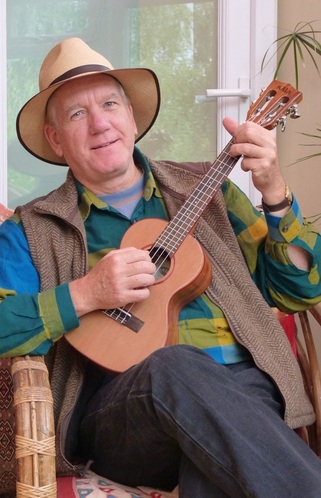 Jon - your host for today!
Greetings!
I
hope this site provides some useful resources for ukulele players. Have a look around - video lessons, songs, theory, links, etc. The menu is at the top of this page. I'm based in Oxford UK and apart from running my own 4-piece music group Moonrakers I collaborate with other professional tutors in running workshops and individuals classes for ukulele and guitar. If you have any enquiries, e
mail me on Jon.Bennett(at)dsl.pipex.com or call 01865 769206 and we'll set something up.
This is what's on offer:
Individual one-to-one tuition.
We can arrange regular sessions or just a few ad hoc lessons to move you on a little. This is useful for those who want to join the workshop sessions but can't quite keep up - don't worry, we'll sort you out. The lessons are 1 hour at £25 and include a personalised follow-up video of what we did.
Skype Lessons
Yes, the 21st century means we don't even have to be in the same room for you to enjoy the full benefits of a lesson. From anywhere in the world I can beam into your life through the ether and show you all you wish to know about playing the ukulele. Contact me on Jon.Bennett(at)dsl.pipex.com and we'll set something up for the usual £25, including a follow-up video.
Folk Orchestra & Ukulele workshops
From time to time I and other tutors (Liz van Santen and Sam Muir) hold group workshops for ukulele (Halsway Manor) and all acoustic instruments (Benslow Music). Some are residential - go to the
Events
page for details. They are a wonderful opportunity to immerse yourself in a whole weekend of tuition and group playing.
If you have a corporate event, or just a bunch of enthusiasts, I'm happy to arrange something for you. The session would usually last about 1.5 hours and you'll learn about:
• Some new chords and ideas on how to spice up your playing
• Strumming techniques suitable for different styles and songs
• Fingerstyle playing as well as strumming
• A little bit of chord theory (but not too much!)
• Advice on purchasing instruments, strings, etc
Email me if you're interested and we'll keep in touch.
To start with, go to the
Videos
and
Theory
pages on this site (click on the above) where you'll find a few ideas. Then, for new instruments, strings, etc, go to Highly Strung (address on the
Links
page). Also welcome to contact me any time on 01865 769206.
---
Testimonials
What a fantastic weekend.! Very stimulating and challenging. I've gone home with a renewed determination to play my various instruments. Roll on next year! Fiona, on the Benslow Folk Orchestra, 2017.

​Thanks for your skill and enthusiasm to bring us together last weekend. I enjoyed it very much. Margaret at Halsway Manor July 2017

I got a lot out of last weekend. I particularly liked the chord melody introduction you gave and the way we can work this into a song. Mick, on the Benslow Folk Orchestra weekend, 2016

​I've sent a glowing review of the weekend to both Stroud and Cheltenham uke groups recommending your course. David, on the Hawkwood weekend 2016

I look forward to the next workshop by Jon Bennett. And now I'm off to rest my brain and ease this obsession with diminished chords. Judy, on the Cheltenham ukulele day course.




​Like so many others, I really enjoyed the weekend at Halsway. You all put so much energy and effort into the weekend it was infectious. I have immediately put my name down for next year. Liz, on Halsway Manor weekend 2015

Superb, with clear communication and lovely easy going attitudes by all the tutors. Well done! Alan, on Halsway Manor 2015

​